IRISH INDEPENDENT 100 BEST HOTELS IN IRELAND FOR 2023
From five-star luxury to budget escapes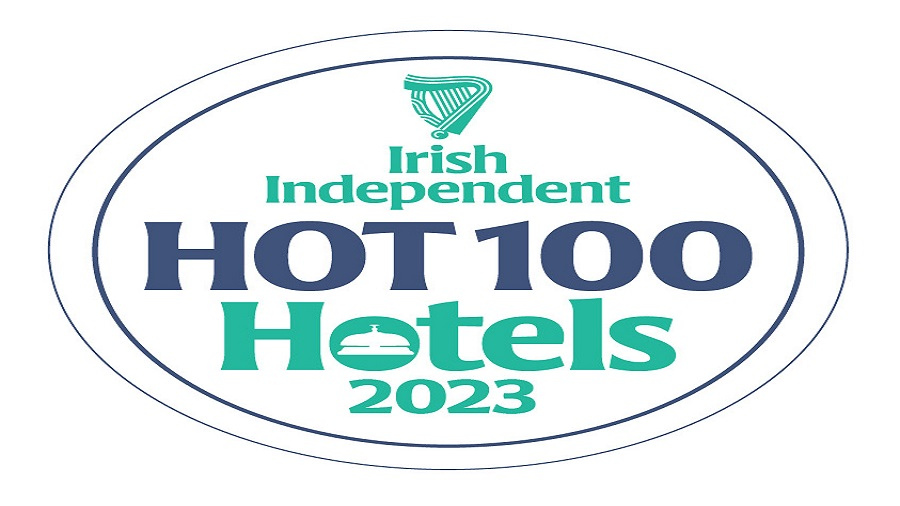 The Hot 100: Travel editor Pól Ó Conghaile picks the 100 best hotels in Ireland for 2023
Pól Ó Conghaile
So here it is, my list of the 100 best hotels in Ireland for 2023. Right now, as I see it, and ranked to boot.
This is where I duck. The Irish Independent's Hot 100 is not an objective, scientific assessment (I just don't see how that could be done). It is subjective — a guide based on my ongoing travels, taste and experience. It's debatable until the cows come home.
This is the second year of our Hot 100 (read the 2022 list here), and you'll notice some changes. A new Hotel Hall of Fame now retires annual winners into a pantheon that will grow over time. Adare Manor is our inaugural entry.
By my calculations, there are more than 1,000 hotels on the island. I can't revisit them all every year, hard as I try. But this list is a moment to zoom out, to highlight those at the top of their game. It's not beholden to star ratings. It's about hotels I see as best in their class, being the best at what they set out to be.
My criteria? I don't have an inspector's checklist. I love hotels that exceed my expectations, that spark good feelings long after I've left. Hotels that are honest, confident and know who their audience is. I like thoughtful design, inspired use of art, food, drink and design, and businesses that go out of their way to engage with their communities and localities.
A good hotel should be a great place to work, as well as visit. And much as I love hotels that find their groove, I also love those that innovate, gently stretching our sense of what stays can be (the best of the best always do a bit of both).
Hotel rates are rising — up 34pc on average compared with 2019, according to the latest Tourism Ireland analysis. But I think my picks offer decent value, whether you spend €100 or €1,000. In a world of global brands, generic stays, crippling costs and staffing challenges, these are distinctly Irish, often independent businesses run by human beings that go the extra mile. They contain multitudes.
1. Kelly's Resort Hotel & Spa, Rosslare, Co Wexford
2. Armada Hotel, Spanish Point, Co Clare
3. Park Hotel Kenmare, Co Kerry
4. Harvey's Point, Lough Eske, Co Donegal
5. Dunbrody House, Arthurstown, Co Wexford
6. Parknasilla Resort & Spa Sneem, Co Kerry Details: €€€€; parknasillaresort.com
7. No 1 Pery Square, Pery Square, Limerick
8. Ashford Castle, Cong, Co Mayo,
9. Hotel Doolin, Doolin, Co Clare,
10. Ballynahinch Castle, Connemara, Co Galway
11. The Shelbourne,Dublin
And here we are delighted to be nominated at Number 12 .....
12. Amber Springs Hotel, Gorey, Co Wexford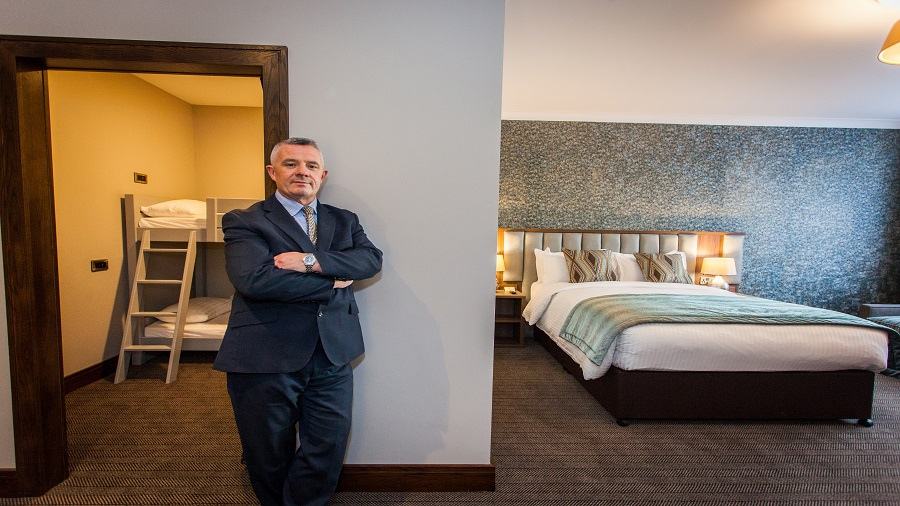 Eibhear Coyle, General Manager in one of the Amber Springs' family dens
Ireland's best family hotel? Every family will have its own criteria for that, but I'll bet the Amber Springs will satisfy most.
It offers huge rooms (including 65sqm dens with little bunk pods), activities ranging from archery to an indoor playzone, 80-seater cinema, pool and chill-out space for teens, and a central garden that feels like a food court (try the FHB burgers from its own farm).
"Kids are our absolute ambassadors," says general manager Eibhear Coyle, a former chef who has taken
the generic-looking Celtic Tiger build to a new level. His criteria for testing new ideas? "I think, 'What would my son have done to that?... The chocolate, the Lucozade, the sunscreen!'" Yes, it is relatively expensive, but it believes the value is there (pop in a diary note for its annual January sale), and recently added seaweed baths in the spa, and a Zen sensory room "for families and children on the spectrum".
A good hotel never stands still, I always say. You'll have to move fast to keep up with this one.
reservations@amberspringshotel.ie
13. The Montenotte,Cork,
14. Dromoland Castle, Newmarket-on-Fergus, Co Clare
15. Fitzgeralds Woodlands House
16. Ballyfin,Ballyfin, Co Laois
17. Monart, Enniscorthy, Co Wexford
18. Glasson Lakehouse, Glasson, Co Westmeath
19. Cashel Palace, Cashel, Co Tipperary
20. The Regency,Belfast [new entry]
21. The Merrion, Dublin
22. Galgorm Resort,Ballymena, Co Antrim
23. Marlfield House, Gorey, Co Wexford
24. Killeavy Castle Estate, Slieve Gullion, Co Armagh
25. Ballygarry Hotel & Sp,Tralee, Co Kerry
26. The Westbury, Dublin
27. Hodson Bay Hotel, Athlone, Co Westmeath
28.Dunmore House, Co Cork
29. The Cliff House, Ardmore, Co Waterford
30. Castle Leslie, Glaslough, Co Monaghan
31. Merchant Hotel, Belfast
32.The Twelve, Barna, Co Galway
35. Brooks Hotel,Dublin
36. The Newpark Hotel, Kilkenny
37. Hayfield Manor, Cork
38. Fernhill House,Clonakilty, Co Cork
39. The Europe, Killarney, Co Kerry
40. Carton House, Maynooth, Co Kildare
41. Mount Juliet, Thomastown, Co Kilkenny
42. Anantara The Marker, Grand Canal Dock, Dublin
43. Ballymaloe,Shanagarry, Co Cork [new entry]
44. Bushmills Inn, Bushmills, Co Antrim
45. Glenlo Abbey, Galway
46. The Ice House, Ballina, Co Mayo
47. Celtic Ross Hotel, Rosscarbery, Co Cork
48. Gougane Barra Hotel, Gougane Barra, Co Cork
49. Gregans Castle, Ballyvaughan, Co Clare
50. The Devlin, Dublin
51. Garryvoe Hotel, Ballylongane, Co Cork
52. BrookLodge & Macreddin Village, Aughrim, Co Wicklow
53. The Imperial, Cork
54. Castlemartyr Resort, Castlemartyr, Co Cork [new entry]
55. Great Southern Hotel,Killarney, Co Kerry
56. Wren Urban Nest, Dublin
57. Killarney Park Hotel, Killarney, Co Kerry
58. The Dylan, Baggot St, Dublin
59. Limerick Strand Hotel, Limerick Strand Hotel
60. Conrad, Dublin, The Coburg at Conrad Dublin
61. Mulranny Park Hotel, Mulranny, Co Mayo
62. The Blue Haven, Kinsale, Co Cork
63.Sheen Falls Lodge, Kenmare, Co Kerry
64. Farnham Estate, Co Cavan
65. Avalon House Hotel, Castlecomer, Co Kilkenny
66. Kilkea Castle, Castledermot, Co Kildare
67. Fota Resort, Fota Island, Co Cork
68. The Harrison, Belfast
69. Lakeside Hotel, Killaloe, Co Clare
70. The K Club, Straffan, Co Kildare
71. Killyhevlin Lakeside Hotel, Enniskillen, Co Fermanagh [new entry]
72. Cabra Castle, Kingscourt, Co Cavan
73. Inchydoney Lodge & Spa, Clonakilty, Co Cork
74. Casey's of Baltimore, Baltimore, Co Cork
75. Stauntons on the Green, Dublin [new entry]
76. Cahernane House, Killarney, Co Kerry
77. Bishop's Gate Hotel, Derry
78. Clonakilty Park Hotel, Co Cork
79. The Dean, Galway [New entry]
80. The Lansdowne, Kenmare, Co Kerry
81. Butler House, Kilkenny [new entry]
82. Falls Hotel & Spa, Ennistymon, Co Clare
83. The Connacht, Galway,
84. The Lake Hotel, Killarney, Co Kerry
85. Arnold's Hotel, Dunfanaghy, Co Donegal
86. Lough Erne Resort, Enniskillen, Co Fermanagh
87. Ferrycarrig Hotel, Wexford
88. Lough Eske Castle, Co Donegal
89. Radisson Blu Royal Hotel, Dublin [new entry]
90. Vienna Woods Hotel, Cork
91. Powerscourt Hotel, Enniskerry, Co Wicklow [new entry]
92. Renvyle House, Connemara, Co Galway
93. Mount Falcon, Ballina, Co Mayo
94. Knockranny House Hotel, Westport, Co Mayo
95. Intercontinental Dublin [New entry]
96. Kilronan Castle, Ballyfarnon, Co Roscommon
97. Granville Hotel, Waterford [new entry]
98. Faithlegg House Hotel, Faithlegg, Co Waterford
99. Sligo Park Hotel, Co Sligo
100. Sheedy's Hotel, Lisdoonvarna, Co Clare