Experience the Ultimate Dinosaur Adventure with our Dino Springs Experience
Looking for a truly unforgettable family getaway? Look no further than our exclusive Overnight Stay Packages and book a visit to our thrilling Dinosaur Train Experience. Get ready to embark on an adventure that will transport you to a world ruled by majestic dinosaurs!
Dino Springs
Immerse yourself in a spectacular dinosaur extravaganza! Our Dinosaur Show features life-sized interactive animated dinosaurs with captivating performances that will leave you in awe. Witness the sights and sounds of these prehistoric creatures as they come to life right before your eyes.
Meet Rex, Victo and Rosie before embarking on an exciting Dino adventure, taking the train to our prehistoric village where you'll take part in an interactive treasure hunt, a chance to dance with the dinos and meet our roarsome gang in person. Our trained rangers will guide you through each step of your adventure so you are guaranteed an amazing Jurassic journey that will live long in your memories.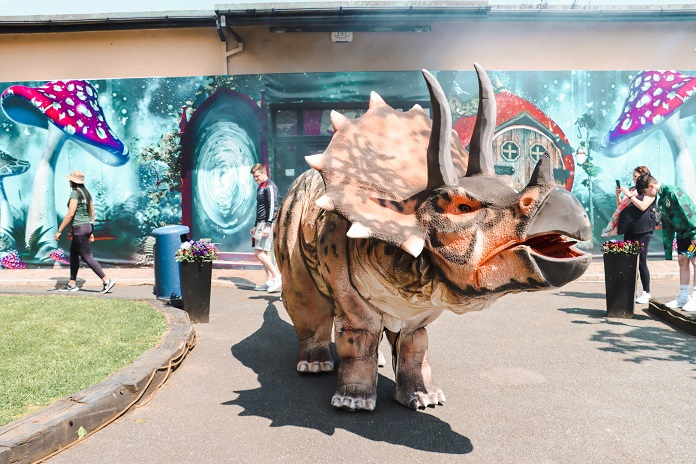 Dino Springs Experience Hours
Wednesday - 11am,12pm, 2pm & 3pm
Friday - 11am,12pm, 2pm & 3pm
Saturday - 11am,12pm, 2pm & 3pm
Sunday - 11am,12pm, 2pm & 3pm
Additional Amenities:
In addition to the Dino Springs Experience, our hotel offers a range of amenities to enhance your stay. Take a dip in our swimming pool, relax in the sauna, or enjoy a workout in the fitness center. For the little ones, we have a dedicated children's indoor play zone, kids' club (ages 5yrs – 12 yrs) with 4 sessions every day where they can engage in supervised activities and make new friends, an 80 seater Showtime Cinema, *Gamer Zone (playstation gaming) and Tween Oasis Room and our Amber Park offers: *mini golf, *archery, *go-karts and outdoor playground (*nominal fee applicable).
Please note our accommodation packages do not include Dino Springs Experience tickets. Please use the links below to book your accommodation package or Dino Springs Experience.